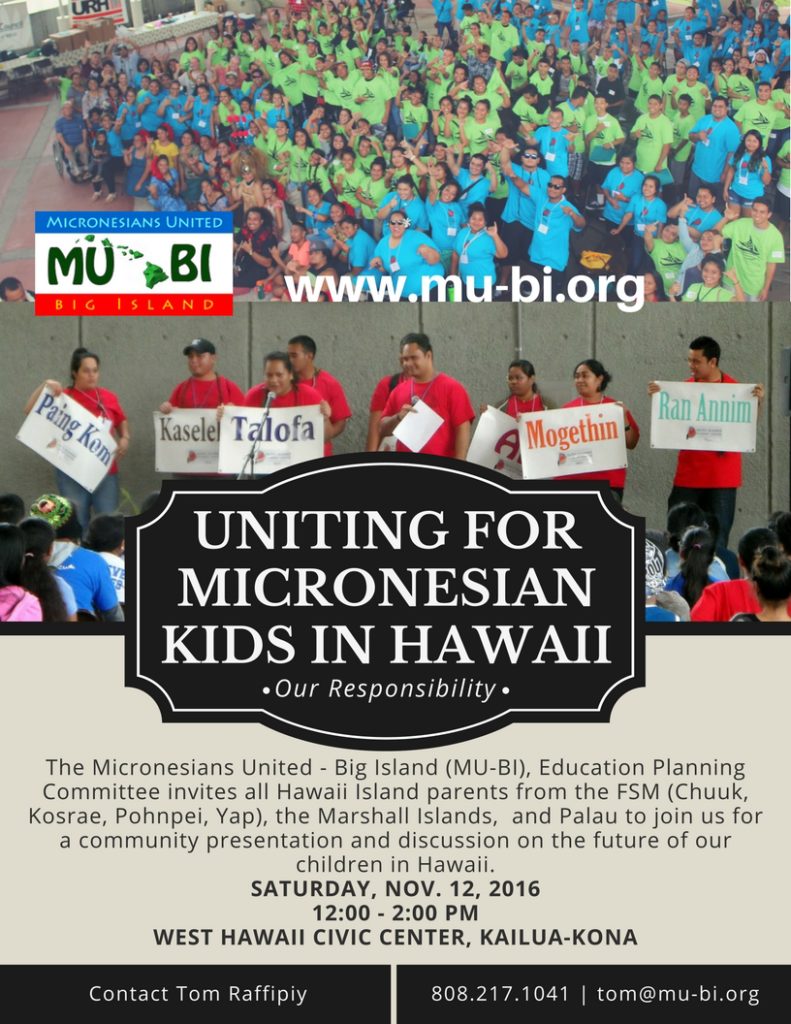 The Micronesians United – Big Island (MU-BI), Education Planning Committee invite all Hawaii Island parents from the FSM (Chuuk, Kosrae, Pohnpei, Yap), the Marshall Islands, and Palau to join us for a community presentation and discussion on the future of our children in Hawaii. Members of our consultancy team of researchers from UH Manoaʻs College of Education will present their findings on a yearlong research into the hopes and aspirations of our larger Micronesian community on Oahu, Maui, and Big Island. It will be followed by a discussion on viable cultural & academic enrichment opportunities for our children to succeed in Hawaii's public school system. We look forward to seeing everyone.
What: Micronesians United for Our Children: Community Meeting
When: Saturday, November 12, 2016
Time: 12:00 pm – 2:00 pm (potluck lunch)
Where: West Hawaii Civic Center (Kailua-Kona), Council Chamber located at 74-5044 Ane Keohokalole Hwy, Kailua-Kona, HI 96740
For more information, please contact Tom Raffipiy, Chair of the MU-BI Education Planning Committee at (808) 217 – 1041 or tom@mu-bi.org.